Although Organic textiles are not exactly new, they are gaining popularity. If you've recently been shopping for sheets, comforters, baby blankets, or adult blankets, you probably noticed that some of them had the GOTS (Global Organic Textile Standard) label on them.
The seal guarantees that Organic fibers made up at least 70% of the fabric, or 95% if it is label-grade. It assures customers that anything marked "Organic" is, in fact, Organic and that each stage of the supply chain satisfies the company's requirements.
Regardless, you may be curious about how to wash Organic bedding, here are the following methods to keep your Organic bedding clean & well-organized.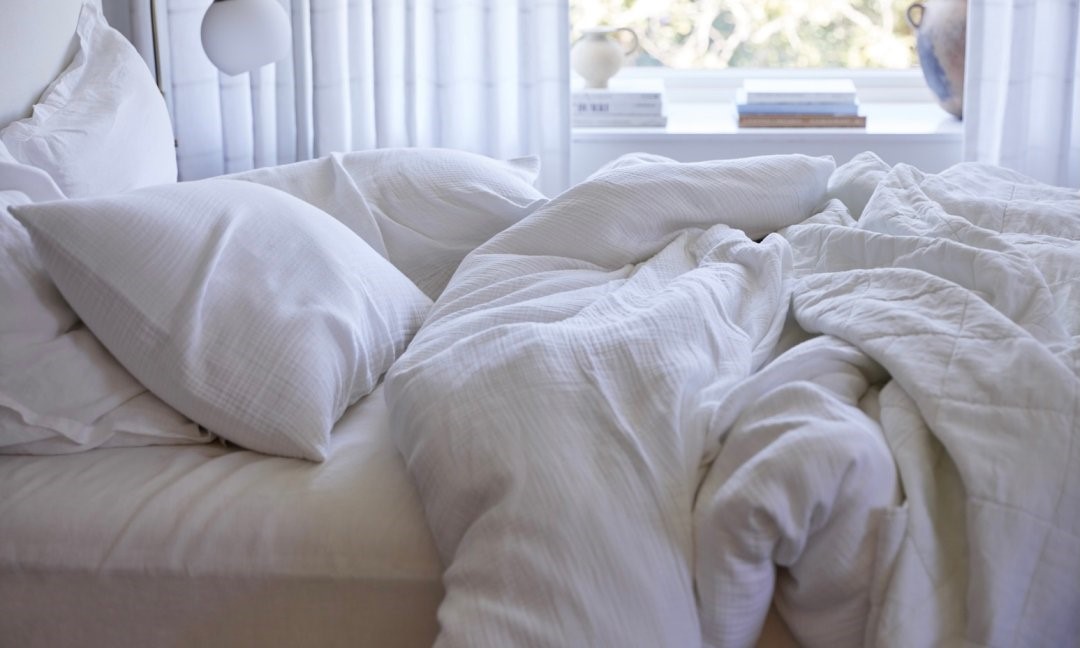 How to Care for Organic Cotton Bedding
Studies have shown that growing Organic cotton plants uses less water, causes less soil erosion, and uses less energy than growing regular cotton. Even though there isn't much research showing that using Organic bedding has any proven health benefits, people who have sensitive skin may feel better knowing that their clothes and home goods were made with very few synthetic chemicals.
So, knowing how to wash Organic cotton bedding can help you reach your goals, whether you want to live more sustainably or just use fewer highly processed products. Below are comprehensive washing and drying instructions for Organic cotton sheets and other bedding.
How to Wash Organic Cotton Bed Sheets
You bought Organic bed sheets and love the soft, long-lasting fabric, but now what? To maintain the material and keep up your eco-conscious streak, follow these washing instructions.
First, set your washing machine to the delicate cycle.
Choose between warm or cold water temperatures. While cool water is generally gentler, warm water does a slightly better job of cleaning and sanitizing.
Cold wash the Organic Textured Duvet Cover Set, the Organic Air Cotton Quilt and Sham Set, and the Organic Knit Throw Set.
Add about a quarter cup of mild laundry detergent to your washer before pressing the start button or putting your bedding in.
Then, press Start and trust that the water will break up the cleanser.
Place your bedding in the washing machine and close the lid once the soap has dissolved. 
Organic Bedding: How to Dry It What about drying?
Usually, Organic cotton bedding can be dried in a dryer, but if you follow these steps, you can save energy and avoid wrinkles.
Untwist the fabric when you take your bedding out of the washer, and check to see if there are any crumpled pillowcases hidden in the corners of the fitted sheet or duvet cover.
To prevent additional twisting, place your washed bedding in the dryer one piece at a time.
Pick a sensitive or bedding-explicit cycle.
Reduce the temperature.
Press start after ensuring that the lint filter is clean.
When the drum isn't full, Organic bedding will dry faster. On the off chance that your dryer is on the more modest side, you should seriously think about drying your duvet cover set and sheets independently. ( One 90-minute cycle will consume more energy than two half-hour cycles.)
Fleece Dryer Balls
To eliminate your drying time much more, throw in a couple of fleece dryer balls. They aid in the separation of the drum's fabrics, preventing twisting and wrinkling. Organic cotton sheets are also kept soft and free of static with this alternative to a dryer sheet.
We have all done the unintentional thing of stuffing fitted sheets, comforters, throws, musty pillowcases, and sheets into a drawer at random. Even though we would love to have perfectly stacked sheets, and bedding sets that coordinate in color, and are beautifully folded, the majority of our bedding closets look like chaos.
How to Organize Your Organic Bedding
Our suggestions for organizing your Organic bedding are listed below. You can say goodbye to overflowing cupboards and sheets folded in a haste. It's time to find what you need, when you need it, for good! Clear out your cupboard Before you can have the linen closet of your dreams, you need to empty it and decide what you should keep. Anything that is pilling, stained, or damaged should go.
Master the art of folding Organic Fitted Sheets
The most common reason why bedsheets end up in random drawers is that people don't know how to fold them right.
Even in small sizes, fitted sheets are the worst. If you've ever attempted to fold a fitted sheet, you know how difficult it can be. If you can fold this sheet correctly, you will not only save time but also help tidy the cupboard.
Label the sizes
Once you have separated the Organic products into piles for each size and folded them neatly, it is time to label them! You can mark the products on the corners with a K for king-size or S for singles for each box and shelf. This will assist you in finding precisely what you are seeking.
They can also be stored at the bed trunk's end
When you don't have a lot of room, under-the-bed storage boxes and ottoman storage beds that lift for storage are ideal for keeping your linens hidden. The Organic comforters should be folded into sets and placed in an airtight bed storage box per set or size. Place it under the bed where it belongs.
Baskets made of wire
Create a basket for each size, color, cot, or guest room sheet. On the outside, label the basket. Your linen will remain neat and easy to locate as a result.
Roll them up
When you take your folded sheets out of the cabinet, do they keep falling apart? Instead, try rolling them. Roll each item, such as the organic duvet cover, flat sheet, and pillowcases, separately. Put them on their side and tie them with a ribbon or shoelace. This will prevent folded bedsheets from collapsing onto each other and help create space.
Sets can be stored neatly using pillowcases
Using a pillowcase is a great way to keep your set together. Store the folded duvet cover, sheets, and pillowcase inside a cupboard by turning the pillowcase inside out. They will be neatly stored in this manner, and you won't have to worry about bedding that doesn't match!
Use Lavender Bags
Put lavender bags inside the closet or box to keep the sheets fresh and smelling like they were just washed. This will help keep the sheets fresh in the Organic bedding cupboard or boxes. You can also use dryer sheets to keep your bedding's scent fresh by placing them there.
However, you can find all these tricks & tips at NatureSoft Bedding including the latest Collection of Organic bedding products which are not only of high quality but also comfortable & smooth for your skin, which can give you much more peace and comfort. Sign Up Today & Get 15% OFF on Your First Purchase including FREE SHIPPING on ORDERS $199 or More.